Lately, I've mostly been reading for my writing (see the next post). But here are a few books I've been reading lately for fun: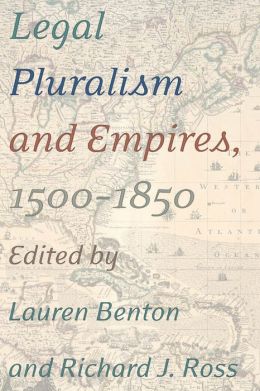 Lauren Benton and Richard J. Ross,
Legal Pluralism and Empires, 1500-1850
(NYU Press 2013). A collection chock full interesting historical and legal analyses of inevitably polycentric imperial legal systems. I found particularly interesting contributions that provided insights into overlapping conceptions of sovereignty, jurisdiction, and property (I've recently established a Working Group in the Ostrom Workshop on those three concepts).
Albert O. Hirschman,
The Essential Hirschman
(edited by Jeremy Adelman, with an Afterword by Emma Rothschild & Amartya Sen) (Princeton 2013). I read this new collection as part of my self-imposed obligation to read or re-read all of Hirschman's major works this year (in honor of his passing). Particularly enjoyable were his essays on "Political Economics and Possibilism," "The Search for Paradigms as a Hindrance to Understanding," and "Against Parsimony: Three Ways of Complicating Some Categories of Economic Discourse."
Ian McEwan,
Amsterdam
(Anchor Press 1999). I had been trying in vain to find good fiction to read lately, and happened across this book in the kitchen (I think my wife read it for her reading group). A really sharp. taut, and engrossing story of human fear, behavior, mistakes, and betrayal, told with a sharply dark comic wit.
This is the first, Pulitzer Prize-winning volume in Rick Atkinson's acclaimed "Liberation Trilogy," which I've been meaning to read for a long time. As it happens, I'm not reading it but listening to it on CDs in my car. The idea was that as long as I was driving up to Indy twice a week this winter for indoor cycling training, I could make the drives more productive and enjoyable by listening to some good history. And this is as good as history gets. It's so engrossing that I find myself listening to the book even for short commutes back and forth to school or to the market. The way Atkinson structures the story, and the quality of his writing, put this volume (and presumably the others) head and shoulders above other popular history volumes I've read in recent years.
Paolo Grossi,
An Alternative to Private Property
(Chicago 1981). The great Italian historian and legal scholar endeavors to correct the highly distorted, if not downright incorrect, view that individual private property is either natural or
the
evolutionary end of all land and resource governance. Grossi writes about "the emergence of alternative forms of ownership - substantially, of forms of collective apropriation - in the consciousness of men who affected the culture of a century dominated by extremely rigid canons of possessive individualism." The book is a translation of Grossi's 1977 '
Un altro modo di possedere': L'emersione di forme alternative di proprietà alla conscienza giuridica postunitaria